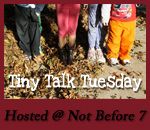 *************************************************************************************
Tiny Talk Tuesday is a way to share the fun and interesting things our kids are saying. I love joining up for this blog carnival at Not Before 7. Click her button above to see what kind of Tiny Talk has been overhead in the homes of others!

*************************************************************************************
It's amazing that J is now working on the concept of "today" and "tomorrow". We went to the library and into the kids area. We were the only ones there and J said, "There's nobody here tomorrow!" I said, "You're right, there's nobody here
today
."
OK, time for a little "potty humor". One day it was time to change J's diaper. He was playing fire fighter wearing his fire helmet so I played around saying, "OK - fire fighter J reporting for diaper change duty! Then as I'm changing his diaper he said, "I'm a stinky diaper fire fighter!" We both had a really good belly laugh from that one.
One night, J was playing with his Little People nativity set. He comes running over to me and has Mary and the donkey in his hands. He said, "Mary is talking to the donkey. She's showing him baby Jesus." Then he says, "Come see! Look it mommy!" and he runs over to put the characters back in the nativity with Mary and the donkey surrounding baby Jesus.
Another thing he picked up, maybe from the DVD Fireman Sam was something he started saying when I would help him with something. Like when I wiped off his hands and face after eating he said, "Great job, Momma Captain! Great job!"
I got the idea from another mommy's blog to make a paper plate tambourine. See
Shining Our Lights
. We put stickers all over it and these lovely purple jingle bells. I gave it to J when it was done and the first thing he said was, "It's beautiful!" Cute.
One night when it was dark out:
J: When will it get sunny momma?
Me: It'll get sunny tomorrow morning.
J: When it rains, the sun doesn't come out.
(This may sound so simple, but I thought it was great that he gets that concept about clouds and rain. I didn't even think about that when I gave my answer.)
Thanks for your visit!