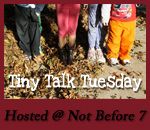 *************************************************************************************
Tiny Talk Tuesday is a way to share the fun and interesting things our kids are saying. I love joining up for this blog carnival at Not Before 7. Click her button above to see what kind of Tiny Talk has been overhead in the homes of others!
*************************************************************************************
J has really taken more of an interest in shapes lately. He is definitely more focused on them which is neat to see. Out of the blue one day he said, "Mommy, my nose is a triangle!" I said, "Well yes, your nose is shaped like a triangle." Then he said, My head is a square and my feet are diamonds." I said, "Who taught you this?" He said, "Me!" :)
One evening, J said "Look at me, I'm snoozing." He had found his Nuk, grabbed his blankie and was laying on the floor. Then he said, "I'm dreaming." I said, "What are you dreaming about?" He said, "I'm dreaming about mini golf." I wasn't sure I heard him right so I said, "Did you say you're dreaming about mini-golf?" He said, "Yes!" This is funny. We drive past a mini-golf place often during the week and he sees the giraffes and other animals and every time we drive past he says he wants to go mini golfing (we've never been yet). I told him we will wait until it opens in the spring when there's no snow left. Then we can play mini golf. So now he's "dreaming" about it!
That's all I captured over the past week. Thanks for your visit!