I love being a stay-at-home mom and feel really blessed spending my days with my son in this way. I also love taking pictures of all the things we are doing. Instead of doing separate Tot School and Play-Time posts, I decided to combine them since it's all part of learning. Some of our time is geared toward open creative play, and some of our time is geared toward intentional learning activities. All of it is about having fun while learning.
Come over to play at the

Childhood 101

We Play

link up: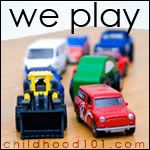 J's Rocket Drawing
This is only the second time that J has drawn something that you can tell what it is. He's been fascinated by rockets lately and out of the blue he drew this one so I took a picture. I was so excited to see it.
The Doctor is In
J got the idea to get out his doctor's kit and lined up his stuffed animals as his patients. I enjoyed watching him listen to their hearts, check their reflexes, give them pills and give them something to drink. Then he came over to me and checked my reflexes. He then put the scope to check my ear and I love it that he got mixed up and said, "Say AHHHH."
Dinosaur Sensory Bin
J is really into dinosaurs, so when I saw this on
The Imagination Tree
I was inspired to put one together. I used some beans, twigs, leaves and a few of his little dinosaurs and he enjoyed playing with them.
Noah's Ark Imaginative Play
J got this wonderful wooden Noah's Ark for Christmas from my sister and brother-in-law. He recently has gotten into playing with it and making up these little stories about how the animals are all playing together. I got him some animal food (seeds) and he loved "feeding" the animals. He has Noah and his wife and he asked me, "Mommy, what's Noah's wife's name?" I hesitated since I wasn't sure and after checking told him she doesn't have a name, so we are calling her Mrs. Noah.
Play Time at Pal Zone
We continue to love going to our community
Pal Zone
(a free early childhood program) where they have open play time, circle time with a story and a craft. He loves playing with his friends there.
Imaginative Play with the Little People Park
This was a Christmas gift I bought for J that I just found stuffed in my closet. I brought it out this week and he started playing with it right away. He's loved Little People since the time he could hold things in his hand. He enjoyed putting the figures on the swing and the merry-go-round and I loved listening as he gave them voices and had little conversations with them. J is also loving wearing this fire chief jacket around the house.
Fine Motor Skill - Using Scissors
I found this great pair of scissors on the
Life with My Giggly Girls blog
and got a pair for J. He loves them! He has not been able to get the hang of regular child scissors. He tried several times to use them, but gets frustrated easily when he can't get his fingers right on his own and ends up quitting. He took to these right away and enjoyed cutting up lots of paper! I didn't mind the mess (too much) since he enjoyed it so much.
Breaking out the Bubbles and Playing in the Puddles
We're finally getting a few warmer days and spent some time outside. We broke out the bubbles one afternoon. I love this huge wand I found that makes giant bubbles. J chased them around popping them. He also spent some time in the puddles and squishing in the mud. It was great to be outdoors.
Christmas Tree Shape Sorting
Although it's not Christmas time, J enjoyed pulling this one out and matching the shape card with the shapes on the Christmas tree. He would call out the name of the shape as he was matching them.
Transfer of Pom Poms using Tongs
This activity was frustrating for J to do until we found the right tongs. It's still not easy for him, but he loves the challenge and now he doesn't give up. He has gotten a lot better at the fine motor skill of transferring the more he practices. We found these dinosaur tongs at
Learning Express Toys
in our home town.
Just Being J
I love seeing J's fun personality develop. He looked so cute in his fire hat and sunglasses which he picked out and put on by himself.
See what others are up to at The Play Academy on the Nurture Store blog.
Thanks for visiting us!