I love being a stay-at-home mom and feel really blessed spending my days with my son in this way. I also love taking pictures of all the things we are doing. J and I had a lot of away-from-home activity fun in March and April. I didn't include them in any of my Tot School/We Play posts so I decided to make a special "On the Go" post. I love that we have so many fun things to do where we are always learning too. We've been having LOTS of fun!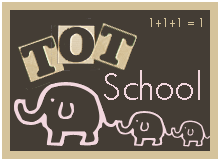 **
J is 34 months old
**
Come over to play at the

Childhood 101

We Play

link up: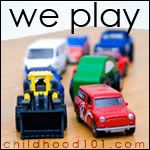 Toddler Dance Party (March 8)
Our local library had a dance party where they invited the little ones to come out and shake it all about. Three of my moms friends joined us and we had so much fun.
St. Patrick's Day Dinner (March 17)
We've kept in touch with friends from China who never met J. We've had fun over the years introducing them to various cultural things and this time we introduced them to traditional St. Patrick's Day dinner (corned beef, cabbage, red potatoes).
Madison Metro Bus Tour (March 18)
Our mom's group got to take the kids on a bus tour. We all went on a short bus ride and then stayed on the bus as we toured the city bus depot and enjoyed watching the bus get washed.
Visit to the Park (March 21)
We took a walk to our local park for the first time this spring. Instead of J riding in his car, he had a ball just pushing it. It's definitely a sign of him growing up since last year he always went in the car. He also wanted to wear his fire hat and fire chief jacket too. We had the park all to ourselves.



Birthday Party Play Date (March 22)

We have a regular play date with a couple mom's and their kids from my mom's group. One of the girls was having her first birthday and we were invited over to celebrate the fun.
Owen Conservation Park (March 30)
One afternoon I stopped by a conservation park my husband and I used to visit. We used to go cross-country skiing in the winter and bird watching in the spring. This was J's first time there and he did great hiking with me while sitting in the backpack.
Titus Group Zoo Play Date (March 31)
Our Titus mom's group had a play outing one day at the zoo. After going to all the exhibits, we had our first carousel ride of the season. This was by far J's favorite part. After that, we played for a bit in the zoo park and J enjoyed the dinosaur fossil area.
Life Group at the Fire House (April 4)
We lead a life group which is a small group through our church where we talk about the sermon together, share about our lives and pray together. One night we all met at the fire house where one of the group members is an intern and had to be on call. J got a personal tour of the fire house and was in 7th heaven!
Hiking at Natural Bridge State Park (April 9)
We had a beautiful Saturday with temps in the 60's and made a visit to the bluffs of Baraboo, WI. We had intended to go to a bird watching area but the road was closed, so we ended up at Natural Bridge. L and I had gone there before J was born, so it was so great introducing this to him. He had his little binoculars and insisted he could walk all by himself instead of being in the backpack. He did a GREAT job walking and hiking and only asked to be held once when we were going down a steep hill (and he was fine with me just holding his hand).
Devil's Lake State Park Visit (April 10)
We had a Sunday with the temps reaching into the 80's (unbelievable for WI in April) so we made our first visit of the season to Devil's Lake in Baraboo, WI. The lake had broken chunks of ice floating in it and J had a great time stirring the "ice soup" with his stick.
See what others are up to at The Play Academy on the Nurture Store blog.
Thanks so much for visiting!