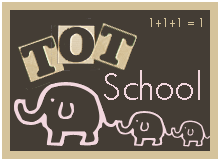 J started out the week being really into his puzzles again. I took a break from working on shape learning since he hadn't been taking a huge interest, but I was surprised that he has retained them fairly well. He did really well putting the shape in the correct spot on the first try and he would say the shape as he put it in its spot. He knew circle, square, triangle (which are the main ones I worked on before) and somehow he even knew diamond.
Here he was working on his new dinosaur puzzle. Daddy helped getting the first half done. I was amazed at how at times when I just let him work on it on his own, he would try-try-again and often find a fit! Then he had fun tearing the puzzle apart when it was only half done.
Continuing on with the dinosaur theme....J also loved playing with his dinosaur figures. He's starting to have them talk to each other and is making up little stories. If I get to closer to hear what he's saying, he'll sometimes get shy and stop so I keep a little distance to capture these fun moments.
I'd have to say J had the most fun this week with the new alphabet floor mat we got him off EBay. I looked at so many and paid $22 for this one yet found out Toys-R-Us has an alpha/numeric one for $25 (on sale). I still like this and it covers up our blotchy "no longer white" carpeting! I set it up at night so when we came down for breakfast he was taken aback. Once he realized it was the alphabet he started playing with it right away. He stepped on it and says "I'm walking on it" like he was really excited.
We did a lot of different activities like working on picking out certain letters and naming objects starting with it. He recognized a few like J and Q. I was totally surprised when he said "Q for Queen" and picked out the Q without me asking that one. We picked out J and I said "J for J___(his name)" and he picked up the K and said "K for mommy!" So I showed him the M for that. He also liked trying to find out where the letter fit to put it back. Of course, he also liked just playing with his toys on it. This one will be something we'll play with a lot.
This picture really shows his busy hands! We finally spent some time doing arts/crafts. It seems like a long time since we've done anything beyond coloring. We used shaving cream with food coloring for some finger painting. I got the idea from another Tot School mom (I don't remember where). This was our first time doing this so we played it by ear. I put some shaving cream on the paper and then asked him what color food coloring he wanted. Then I'd put a drop and then he'd smoosh it around. He did about 4 colors and then looking at his hands said, "My hands are dirty" and wanted them washed. So we switched to trying out dot paint!

I was so excited to get our Dot Paints as I've seen several tots using them at Tot School. They are great and so less messy than finger painting! (But the mess is its own type of fun too.) J and I both did a painting and after J was done with his he moved to mine and started tracing it. I didn't realize until later that he had gone over my picture tracing each one of my dots! So cute.
He also made some stuff up on his own and had so much fun lining up the bottles while saying its color, taking the lids off and then putting them back on the matching paint bottle and then he found out he could stack the lids. Loved this!
Enjoying some goofing around as we waited for daddy's food at Culver's. I love that J is starting to develop a sense of humor playing around like this.
It's so hard to get pictures of J smiling. He never hams it up for the camera so I have to get him "live" just purely enjoying himself. (Usually by the time I get my camera ready, his expression has changed.) We were getting out of the car and he decided to crawl around and starting laughing when I was acting goofy as I was coming to get him.
We have a wonderful Farmer's Market and went for our second time this season. We stopped to listen to a couple musicians and just enjoyed a beautiful day (but really felt like fall).
Daddy, J and I had some fun running around outside. J got this basketball "free" from Culver's (our pretty much favorite dining spot). We saved our coupons to get it. He loves playing basketball and had some special time playing with daddy but then ran over to me and said "mommy catch it". This photo was just before he passed it my way.
For more Tot School ideas, visit
1+1+1=1
And here's another linky I joined