I love being a stay-at-home mom and feel so blessed to do so. I also love taking pictures of all the things we are doing. Instead of doing separate Tot School and Play-Time posts, I decided to combine them this week. So some of our time is more geared more toward play, and some of our time is geared more toward intentional learning activities.
Come over to play at the

Childhood 101

We Play

link up: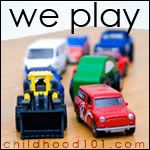 **J is 32 months old**

CD-Rom and Using the Mouse
I got a Reader Rabbit CD-Rom from the library that J is just ga-ga over. He is finally getting to learn to use the mouse. They have this software at the library and I noticed how J just loved playing it. It is very toddler-friendly and all J has to do is wiggle the mouse around. He doesn't have to click it.
New Binoculars and Bird Watching
Almost every time we go to our play group called Pal Zone, I notice J really enjoys playing with the binoculars. I found him a pair and now we are doing bird watching together. He'll look at all kinds of things with the binoculars going around the house, but he really enjoys the birds. He's getting pretty good at naming the few who do come and visit, like the sparrow, chickadee and blue jay.
Packer Football
We invited some friends over to enjoy some football and J had so much fun clowning around. He just loved the attention! Somehow he got the idea to hide the football under his shirt so we joked that he was having a baby.
Dumping and Sorting
This is always a favorite activity. In particular, he likes to dump things into the dump truck (makes sense). This time it was little stones we got from the dollar store. Then he enjoyed sorting them into little jars.



Matching - Backyardigans Memory Game
I picked this game up at our Saver's thrift store at least 6 months ago before I knew anything about the Backyardigans. J was really excited to play it this week. He saw this show at my sister's house and he really enjoys it so we were so happy to realize we had this memory game. Daddy even jumped in and helped him match. We worked on the concept of an "exact" match. He started out just matching up the characters, but then we taught him how to find the pictures that matched exactly.
Do A Dot Art
We hadn't done dot paint in a while so I got them out and he had a lot of fun. I absolutely love how many free printables are out there on the internet. Most of mine I got were from this site,
Making Learning Fun
. J was coloring them faster than I could print them! I don't know if you can see from the first picture, but I love how he puts his little tongue when he's really focusing intently on something! He made more than 10 different pictures using green, purple, red and blue.
Fun with Forts

It has been pretty cold lately, so one day while staying inside we built a fort. J wanted to call it a "jungle safari". I described that you "build a fort" yet you "go on safari" yet he kept insisting what we made was a jungle safari. So it was. He brought in his dinosaurs and pointed out the ones he wanted me to play with and we just made up stories and had a lot of fun.
We
had a blizzard this week that dropped around 14-18 inches of snow in just 24 hours. We got outside to enjoy it and ended up making a snow fort. J also wanted to bring his toys out to play with inside the fort. Oh, and can't forget that he brought his little lawnmower out too. Lots of fun.




Check out what's happening this week at a few other places I like to link up.....
See the fun things other moms are doing at the
Weekly Wrap Up,
another place I link up.
Thanks for stopping by!!