**J is 33 months old today!**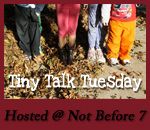 *************************************************************************************
Tiny Talk Tuesday is a way to share the fun and interesting things our kids are saying. I love joining up for this blog carnival at Not Before 7. Click her button above to see what kind of Tiny Talk has been overhead in the homes of others!

*************************************************************************************
One afternoon, I was telling J it was his friend Jackson's birthday. We talked about that for a little bit and then J says to me, "Tell me my story, mommy." I said, "I'm not sure what you mean." He then repeats it a bit more insistently saying "Tell me my stoooooorrrry mommy!!!" So I told him the story of how God created him, how he grew in mommy's tummy; and that he was born and grew from a little tiny baby (only 6 pounds) to a big 25-pound almost 3-year-old. He loved the part where I told how he came out of mommy's tummy with a loud crying and strong lungs and how we stayed in the hospital for a few days and he learned how to nurse. It was sweet sharing this with him.
We found the book Pocket for Corduroy and at the end of the book, the little girl nuzzles noses with her teddy bear. It was the next day that J comes running up to me all excited and says, "Mommy, let's nuzzle noses!" I didn't understand at first what he meant until he told me "like Corduroy" so I leaned over and got the sweetest little nuzzling from J. He asks to do this now and again and it just melts my heart every time.
We are reading a chapter book (our first one) by Beverly Cleary called The Mouse and the Motorcycle. I wasn't sure if J would be able to follow along, but I've been surprised by how much he enjoys it. I notice without many pictures, he's engaging his imagination more and stops my reading to add his input and thoughts. In one part of the story, the mouse is trapped under a glass in the hotel room where he lives. He is being watched by two teachers who are enthralled by him. Ralph is not happy because he doesn't know what they will do with him. J said, "Mommy, you and daddy would go into the hotel room and get the glass off of Ralph and save him!"
One day while drinking from his sippy cup, the cup made a funny squeaking noise. J says, "It sounds like an elephant in my cup mommy!"
One day I was looking at J and he had an odd expression on his face. He was looking a bit frustrated. A couple days before he had a surgical procedure with medicine that had him a little constipated. I asked, "Are you pooping?" He said, "No, it's just a little toot."