(J is 26 months old)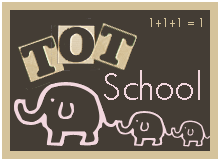 This was a pretty low-key week as far as Tot School goes. We spent a lot of time at home in the air conditioning as it was super hot and humid just about all week.
Playing Fireman
Playing fireman never gets boring for J. A couple days this week he came up to me wearing his fire helmet and bringing me his extra one saying "come fight the fire mommy". So I'd put on the fire helmet and join him. Then we'd get out the fire trucks and line them up. I have a fire hydrant sprinkler I keep inside so I found a tape measure that I used as a hose and showed J how to hook it up to the fire hydrant. He had fun doing this.
J's getting a lot better at figuring out how to put the different shapes in the correct hole. So most times he knows where the shape goes, but now he has to figure out how to turn the shape so it fits into the shape hole correctly. Sometimes this gets frustrating for him and he'll throw it aside and start with another.
We've read Shape Capers a lot but it's been a week or so since we last read it. Right now I'm focusing on circles, triangles and squares. He learns these and then forgets them. They don't seem to stick yet. He seems to like calling everything a triangle so I think that's his favorite shape. This book is also good for naming colors and he loves doing that. He knows the majority of colors but every once in a while calls blue "red". He did grow tired of trying to name the shapes on every page, although he focused well in the beginning. We read What is Square which has pictures of all different kinds of items that come in the shape of a square. He liked naming the object but this one didn't hold his interest as much. In general, he doesn't seem as interested in shapes right now as he is with ABC's and counting.
#1 Lining up in a row
#2 Stacking
We both enjoyed doing this one. We did this a few times during the week. We have a box of colored dominoes and we liked lining them up in a row. I liked trying to match the colors as I made my row of dominoes. J would come over and identify the colors on my dominoes and we'd also count the dots. He knows 1-4 then starts skipping to 10. J liked to call out the color of his domino as he'd add it to his row. He also liked stacking them up on top of each other. I'd lead in counting and he'd join me so we'd see how many he could get in a stack. Six was the most before they fell.
For more Tot School ideas, see
1+1=1
.