J is 27 months old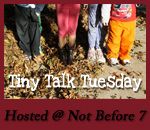 I had fun recording some of the cute things J said this week.
Fascination with elephants
One morning when J woke up, he was pretty excited and says "The elephant is singing." I wasn't quite sure where this was coming from and when I asked he pointed to the our valence. We have zoo animals on the valence including elephants. Then he said, "I see the elephants marching. They're marching from the Jungle Book." Again he points to the valence. Ever since I found the Jungle Book and let him watch parts of it, he has become fascinated with elephants. He has me play a scene of elephants marching over and over. It's made an impact I would say.
"I'm not sick."
I had dropped a little bottle of Children's Tylenol and J picks it up and says, "What's this?" I said, "It's medicine. You don't need it unless you're sick. J said, "I put it down. I don't need it. I'm not sick." Every time I mention being sick J remembers the time a couple months ago when he got sick during the night and several times the next day. It's funny how he responded when I told him what he picked up.
J learning to share
J was drinking his apple juice one afternoon and I was nearby and he looks at me and says "Go." That means he wanted me to go away and I told him no, I wasn't going away. So then he gives me his cup. I say, "Are you offering me your apple juice?" He said yes. I took a drink and thanked him. He says, "I want to share." This was precious! I gave him much praise for that as he often has a hard time sharing so we talk about it a lot.
First conversation related to death
One morning, J pointed at a collage of our cats Buca and Rio (Rio died in March) and said, "That's Buca." I asked him, "Who else is there in the picture?" He said, "Buca." I pointed to Rio and said, "Who is this?" He said Buca a couple more times and I said, "Do you remember?" Just then he said, "Rio!" I said, "Yes, Rio is in heaven with God now. She's not here." J said, "She's all done." I said, "Yes, she was all done here so she went to Heaven to be with God." J said, "I want Heaven." I said, "Yes, we'll go to Heaven when we're all done."