(J is 26 months old)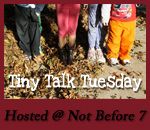 I found another mom's blog at Tot School called
Caeden's Corner
who has a son J's age. She participates in Tiny Talk Tuesday which is from the
Not Before 7
blog. I love this idea of sharing what your kids are saying so I'm joining in today with a couple things to share.
On Sunday, we were at church and I was holding J while we were talking to someone. He was really wiggly and seemed rambunctious. I couldn't exactly pin down his mood so when this person started laughing when J cupped my face with his hands and was patting my face I said, "J is in a funky mood." Yesterday morning, I was getting J dressed while he laid on the floor. He was waving his legs around and was wiggly and giggly. I said something about him being so wiggly and he says to me "I'm in a funky mood mommy". This was so funny! He has never said this. I had no idea he picked that up from me the night before. Then he was almost dressed and says, "I'm all done funky mood." Cute!
Talking to God
Last week, we were on our way home from the YMCA. I was talking to J about what they are teaching him in church, that we can talk to God anytime or anyplace; that we talk to God in our prayers. So J says "Hi God. I want brown muffins God." (Brown muffins are his favorite chocolate chocolate chip mini muffins). Then we were getting out of the car and he says "I want to give my brown muffin to God." Once outside, he walks around and says "Where are you God? Where did God go?" This was just adorable!
--------------------------------------------------------------------------------------
The day's recap....
Today it was so hard to believe - J slept until 10:00am! I was up a little after 8:30, showered, ate breakfast and he still wasn't up. He didn't go to bed unusually late either. Not sure why? He doesn't seem ill or anything. Today my friend asked if I'd watch her son while she went to the laundromat. J has played with him before and they get along pretty well. It was no problem, I felt it would be good for J, more work on his sharing! She thought she'd be gone just a couple hours but she had trouble with needing to re-do a load so the boys played, ate and played some more for about 4 hours. It looked like a mini-tornado hit since they took out toys that J hadn't played with in ages. Of course, anything Jackson took out to play with J had this renewed interest in it and tried to take everything from him. I was the referee getting J to play nice and let go of (or give back) the toy in question. Although Jackson had a really hard time after Eileen left and cried off and on, I also saw some smiles and giggles. He was ecstatic when his mom came back. J went for his nap and the first thing he said when he got up was, "Where's Jackson?" I told him he went home.
J continues to eat like a little bird. We have this great (because it was my mom's recipe) pork chop dinner and he just picks at it and tells me he wants cereal. I nix his cereal idea but he doesn't end up eating much more. Our after dinner time was a stop at the library. It is so nice how J does so well there allowing me to look for books and things. He went over to the puzzles and he found the animal one. This little African American boy would point to where the piece should go, and J would put it in. J was chattering away as he did the puzzle. They repeated this probably 4 or 5 times until it was time to go. While I checked out, he climbed up on a chair across the way and sat waiting. He didn't want to go to bed either since we had new books and videos. I let him watch a bit of Little Einstein which a friend recommended to me and then it was time for his bed routine.