**J is 29 months old**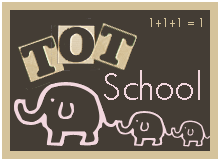 We had a few Tot School activities this week, but more of our activities seem to fall under "life fun". We got out and about a lot this week too. By the way, if you notice my son wearing the same outfit for several days (Oct 17, Oct 19, Oct 20) it's because he refused to leave his jammies! Since I really like the jammies, it was fine with me.



One morning, J was saying "Let's watch something mommy" over and over and I'd say "Let's play something." We went back and forth until J got the idea to play with bubbles. He took the "baby bubbles" and I took the larger one. I thought maybe we'd focus on J learning how to blow the bubbles but he said, "You blow the bubbles mommy." He wasn't into blowing them but had a great time chasing them, popping them and then we had so much fun talking about what happened. Every time I made a comment like, "That one was a dud! That one popped on my face! That one got my arms wet my lips wet!" J would excitedly repeat what I said and ask for more. I had no idea something so simple would be so much fun. I even got a few pictures of the bubbles in the air.

After we were done with bubbles, I asked J's help in cleaning up the floor. I got us each a cloth to wipe with. As we were wiping I'd say, "Did we get it all?" J said, "No mommy. I'll get you the big cloth" and he went to the stove and pulled off my big dish cloth. He had so much fun cleaning up.


We did a little bit of ABC's using ABCDE from our floor mat. I asked him to do it like a puzzle, finding the letter that fits. Immediately he wanted to put the E in, he ran over saying "E for Elephant". Then he put in the E and he took it out. Then he grabbed the L. I was asking him to put the L into its matching piece and was showing him how. Then he said, "No, I do it all by myself" so I let him take over.
I made a Halloween sensory bin this week using green, black and orange spider rings, Halloween stickers of ghosts, bats and little wooden ghosts. J used his scoop to scoop things up but then once he found the stickers he spent the rest of his time playing the those.
Books
Hush Little Baby
Anklyosaurus
Let's Go (4 books in one; read School bus and Fire Truck; got to train & he wanted to do fire truck again, says "It's my favorite.")
Mouse's First Halloween
The Tale of Despereaux - No Ordinary Mouse
Pooh's Heffalump
The Gingerbread Man
Videos
Berenstain Bears - Get Organized
Music
Where is Thumbkin?
Veggie Tales Worship Songs
Stellaluna Audio CD
Life Fun
L's friend from work gave us a train with train tracks but we could never fit the track together. This week she found one more piece of the track and we finally had a working track!
J's friend Jackson came over while his mom was substitute teaching. It was a gorgeous day and had some fun play time outside. They really liked playing with the bubbles together.
My Titus mom's group got together and afterward we went to lunch with a couple moms. J and Olivia had some fun running around before we got a table.
I did some shopping at our local thrift store Savers and in the first picture J is showing off his new Spider Man slippers and trick-or-treat bag. In the picture below it, again he's sitting with his slippers on and surrounded by a bunch of new books. I sifted through their kids books and found a whole bunch of the ones we enjoy getting from the library. Now they are part of his set.
We are doing a little bit of Halloween stuff. J loves elephants so I got him this Elephant costume with big droopy ears. He was oh so excited to put it on. I'm so glad! He kept saying "I'm in an elephant costume, mommy!" We went to our YMCA's party where he got to play a few games and got little prizes. His favorite was one where you walked around the circle to music and stopped on a number. You got a prize when your number was called.
Did a little more fall leaf collecting. Our leaves are almost past-peak. It has been so dry that the colors haven't been quite as dazzling as years before. A lot of the leaves dried up and blew off before going through the color changes. Yet there were still a few that were eye-catching like the ones above.
J and I continue feeding the birds. Lately, I've been feeding them a mixture that's really for outdoor critters. It includes whole peanuts, peanut pieces, shell corn, cracked corn and lots of sunflower. We live right next to a 4-lane road in a condo complex so the trees aren't extremely mature and we don't get a lot of variety. We were excited to see we've attracted a blue jay that's enjoying the peanuts. I tried several times getting pictures, but he comes and goes so fast. I was able to get him in a silhouette above. See the peanut in his beak?
Favorite of the Week
My husband got these "Where's Waldo" glasses from work and brought them home pretending they were his new glasses. We figured out right away he was joking, but daddy asked if J wanted to put them on. He is usually not into getting his picture taken, but this time we all were laughing so hard that he actually enjoyed it.
Click below to visit other
blogs at the
Weekly Wrap Up
, another place I link up.
For more fun with Tot School ideas, visit
1+1+1=1