**J is 28 months old**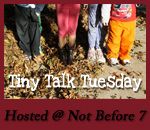 One night J wouldn't go to sleep and was still pretty wide awake. After reading some books, I somehow had the idea to give him his first Spanish lesson.

I said:
If you want to say "hello" in Spanish, say Hola!
If you want to say "goodbye" in Spanish, say Adios!
If you want to count in Spanish, instead of 1-2-3 it's uno-dos-tres.
So after each one, J would repeat the Spanish word, thoroughly enjoying this. Then he'd say, another one? So I went through the whole lesson once more and J says "It's Handy Manny talk!" This blew me away. We had read a Handy Manny book and they use a Spanish word here and there so I remember briefly explaining that and then we also watched the video where they use a little Spanish too. Yet to me it was so amazing that he put those two together like that! I'll have to keep this up.

One night before bed, J was playing in the living room. It seemed he was starting to wind down a bit and the next thing I know he says to me "I'm going upstairs mommy. I'm going nite nite." He starts walking towards the stairs carrying his sippy cup, his goldfish snack cup, and a long lost favorite book about the Moose's Thanksgiving. Wow, he was all set! I said, "Going to bed, J?" and J says, "Go upstairs mommy? Go upstairs?" So we headed upstairs to start our bedtime routine. This was just so cute and he's never done that before.
I pulled out our fall books and one is called Five Little Pumpkins. J was "reading" this to himself. It's a board book with only a few pages and I heard J saying, " One pumpkin smiles. Two pumpkins smile. One cries, one is happy. The end!" I love it.