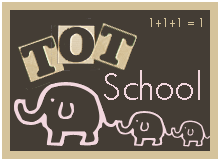 Recently, I made a couple photo albums for J. I put together one about 6 months ago and realized he loved looking through it a lot, so this time I made two just for him. He has fun going through the pictures pointing to himself and talking about what he is doing.
I steam-cleaned our carpets this week after having my birthday party. I was putting the ABC floor mat back and lots of the letters were missing. I would hold out a letter and then ask J to say what it was and put it back in its place. He did pretty well! He has a handful now of letters that he can recognize by sight.



J did a little bit of playing with his puzzles this week. He didn't work on this for very long though.
This little guy is Mr. Spud. He was a joint gift that L and I got from a mutual friend. J took it over! He loved playing with it and kept saying, "I want to bring Mr. Spud" whenever we went somewhere.
This week, I used the sensory bin a little differently. I actually got this idea from J! Our friends had left a mixing bowl with spoons after our party and J was picking up the spoons and saying "stirring, stirring" which is something we do at PalZone play group where we make (imaginary) Halloween soup. So I got the sensory bin out and let him make "soup". He wanted to make "chocolate" which he did using the black stones. I got a glass bowl for myself and mixed acorns, pumpkins and cranberries and then used the stacking cup as a bowl to "eat" it.
I can't remember which mommy's blog I got this from, but we loved this Animal Tracks activity. I am always looking for tracks when we're out hiking and I see areas of mud or in the winter after it snows. J had more fun collecting them up once I would place them all on the ground for him to sort and pick out. When I guided him, he would make guesses for which tracks matched the animal. I tried to get the idea across that these were puzzle pieces and to look for the piece that matches, but he just liked doing his own thing like naming the animal or picking them all up and then mixing them all up on the floor again.
J saw these colored craft sticks in my cabinet and wanted to play with them. I got six coffee cups and asked him to sort them by color. He was really into this! He followed my directions and sorted them until they were all done. I want to find something that would be more challenging for him next time.
Books
These are some of our favorite books from the week:
Halloween; Is It for Real?
Elmer Takes Off
Elmer Again
Pooh's Heffalump Movie (paperback book)
Mouse's First Halloween
Kidogo
A Little Prairie House
One More River; A Noah's Ark Counting Song
Time to Say Please
Videos
It's a Meaningful Life, Veggie Tales
Sesame Street; 1-2-3 Count with Me
A Mama for Owen (book on video)
The Berenstain Bears Get Organized
Richard Scarry's Best Busy People Video Ever
Music
Veggie Tales Worship Songs
Wee Sing Dinosaurs
Ratatouille soundtrack
A Child's Celebration of Rock 'n' Roll
Francis Cabrel; Des Roses and Des Ortis (This was a gift from our friends who are from France. I played this in the car and J loved it. I told him it was French and so he would say, "Mom, I want French" whenever he wanted to listen to it. Which was a lot!
Life Fun
It's hard for me to believe, but I turned 40 last weekend! We had a day party for family (my 3 sisters, their husbands, 2 nephews and 2 nieces) and then a friends party (with kids) at night
. J had a lot of fun. He didn't know what to do with so many friends to play with. The most fun was probably when we played "Rock Band" the video game. It consists of a guitar, microphone and drums that you connect to your TV. J liked the drums the best.

We had some fall fun at Eugster's Farm and petting zoo. It was a beautiful summerish day and I'm so glad we got out and enjoyed it. J spent the most time playing in the sandbox with all the diggers, dump trucks and shovels with pails. He enjoyed milking Daisy Mae the plastic cow and also feeding bottles to the baby goats.
J was doing head stands one day and actually asked me to take a picture. Usually, he doesn't like it when I take pictures so this was cute. He was saying "I'm upside down mommy!"
We were blessed with a beautiful weekend so Saturday we headed up to one of our favorite places, Devil's Lake in Baraboo, WI. We went with L's sister who teaches 1st and 2nd grade. We went on a long hike around the lake that takes a couple hours and got to use our new backpack for J. I was so glad that he loved it! He called it a piggy back ride and was singing and humming. L's sister knew all these different kids songs so we had a great time singing all these songs as we hiked. Every time we finished a song, J would say "another song?" and we'd keep going. What a nice, uplifting day.
Click below to visit other
blogs at the
Weekly Wrap Up
, another place I link up.
For more fun with Tot School ideas, visit
1+1+1=1