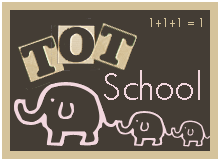 Over the last couple/few days, we've been focusing on the alphabet for our Tot School time. I got a fridge phonics leap frog and he really enjoyed changing out the letters. Then he'd press the ABC song and sing what he knows of the ABC's. Sometimes we sang together and sometimes he sang alone. It went something like this: A-B-C-D-H-I-F...J-K-L-M-N-O-P...Q-R-S...Y and Z. He liked it when I held my nose and sang the song for the individual letters. Then he'd do it and we'd just crack up. This is something he goes back to several times throughout the day.
I set up J's alphabet blocks to create a little game. He'd pick out a block, I'd say the letter and then put it in alphabet sequence. He can't recognize the letters yet so this continues to be a good focus. We did this with several blocks but then J started to lose interest and then wanted to kick the blocks instead of set them up. I told him we'd take a break and come back to it later. When we came back to it, I would point to where the letter goes and he'd put the block in place but this time he stopped after only a couple blocks.
I picked out several of our ABC books to read. The one that seems to be his favorite is Clifford's ABC's. He'll often repeat the letters after me and then identify the pictures.