I have been following the blog
Tots and Me
for a bit and recently saw a blog linky she joined about playing with our children. I had been adding my play time pictures to my weekly Tot School post but decided this would be a new and fun way to post them.
Come over to play at the

Childhood 101

We Play

link up: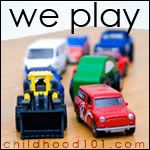 First Snow Fall of the Season
We got to enjoy our first snowfall of the year. Daddy even got to come outside and play with us. J liked finding "snow balls", chunks of snow that he would throw and then stomp with his feet. Daddy made a beautiful snow angel and invited us to join him. J was a little scared to be lying down in the snow and wasn't moving so I moved his arms and legs a bit to make an angel. Ours didn't turn out half as good as daddy's. After being outside for a while, J said he was getting cold so we went in and got some hot chocolate with marshmallows. J thought he'd have more fun and he put on my boots and was tromping around the house in them.
Christmas Tree Decorating with Friends
Our friends invited us to join them for dinner and to help them decorate their Christmas tree. This was so fun, especially for J. He loved dancing around the tree even though he was only interested in putting a couple ornaments on the tree. Daddy and mommy were the ones enjoying trimming the tree. I love the picture of the boys eating their bananas like little monkeys.
New "Blankies"
We made a trip to the crafts store and wound up next door in the fabric store. I would love it if I could sew a blanket, but the closest I came was finding some fleece remnants. J just loves warm blankets and I ended up finding some cute ones. Here J is wrapping himself up in his Sesame Street remnant and my North Woods remnant is next to it.
Light-up Snow Man
Another find from the craft store was this little light-up snowman that was half price because the battery was dead. J loved it when we got it home and put new batteries in it. He sat on the chair with it for minutes at a stretch, just watching it change colors. It's neat to see what fascinates him.
Enjoying the Second Snow of the Season
We played in the snow again when we had our second snow of the season. I showed J how it was coming down outside and the minute I asked if he wanted to go outside he said, "Let's go get my boots!" We usually "play balls" outside which means he takes the balls out of the bin and throws them and kicks them. He asked if we could play balls in the snow and I said sure. I pointed out the different tracks they were making in the snow and we especially loved the tracks made by the soccer balls. Then I asked him what kind of tracks he thought his lawn mower would make, so he took that out and pushed it around outside. After a while, the wind started to blow in our faces (see last outside picture) and it felt pretty cold. J wanted to go inside and I was thinking that too so I encouraged him that I'd made some nice hot chocolate with marshmallows. We got some called "Marshmallow Madness" that has bright-colored mini marshmallows in it.
"My Hands Are Walking"
J put his hands into his boots and said, "Mommy look, my hands are walking." He actually walked putting one hand in front of the other, it was so funny. I love seeing his little sense of humor blossom!
Team Scoopie Gear
We love our local Culver's restaurants and get their Scoopie kids meal every time we go. You get to save up the tickets for some scoopie gear. This time J picked out the soccer ball and he was so excited about it. He ended up falling asleep with it on his lap. Later, he wanted the ball with him when he took his nap when we got home!
Playtime with Friends
We had our friends over for dinner one night and the kids had a lot of fun playing. The younger boy is like an adopted older brother to J. He's 5 and calls J "baby J" and they have so much fun playing together.
Mommy Reading
Daddy took this one of my reading J a book. A very common sight in our house and one of J's favorite things to do.
Bedtime Routine
I snapped this picture one night during our bedtime routine. I had the perfect timing while J was smiling and looking at me which is totally rare. He rarely if ever poses for pictures so I was glad I got this.
Sleepy Fireman Daddy
This was a cute picture I snapped of a sleep daddy and J with their fire helmets on. He came over to daddy and put the fire helmet on his head. Daddy looks asleep but he was still slightly awake. We watched a video called "Fireman Sam" recently and so one of his favorite things to do is grab his fire helmets and he'll wear one and then he has mommy or daddy wear one.
Thanks for visiting my blog!