**J is 30 months old**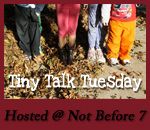 *************************************************************************************
Tiny Talk Tuesday is a way to share the fun and interesting things our kids are saying. I love joining up for this blog carnival at Not Before 7. Click her button above to see what kind of Tiny Talk has been overhead in the homes of others!

*************************************************************************************
WOW! I must have been busy last week because I missed doing my Tiny Talk post!!! So this one still has some of the Thanksgiving related snippets.
I found a Thanksgiving printable with leaves that say "I give thanks for _____." I had no idea if this would be something J would be into and understand. I introduced it by explaining again about Thanksgiving and the reason we celebrate. I said, "J what do you give thanks for?" He didn't even hesitate, and right away he said, "I give thanks for God." I had a few more leaves and each time I asked he said something else like "I give thanks for Mommy, J and Daddy"; I give thanks for Uncle Ro Ro and Kelly." This was so sweet!
We had been talking about things we were thankful for, one of the things was he was thankful for Mr. Potato Head. That made me laugh. Then he did something interesting. He got the Mr. Potato Head container and started pulling out the pieces one by one. As he did, he would say "God made glasses. God made a smiley face, God made arms....he named all the parts as he took them out saying God made them. Sweet.
One night we were getting J prepared that it was bedtime, picking up toys, picking out a book, etc. I thought he was ready until he said, "It's not time to go to bed. It's time to go to Uncle Ro Ro's house!" Apparently, I had been talking about Thanksgiving a lot so he got it in his head that it was NOW instead of LATER that we were going down to Uncle Ro Ro's. I explained to him that he had to sleep tonight and have one more day and
then
we'd go to Uncle Ro Ro's. He was sad and it brought a few tears.
One morning we were going to our play group. Daddy asked J, so what are you doing today? He said, "We're going to Pal Zone. That's where I'll see other boys and girls and have to share. I'm going to cry."
Later that same day, I was preparing J that we were going to the YMCA. He enters their nursery while L and I work out. I tell him in advance so he knows we'll be apart. He said several times, "I'm going to miss you while I'm in child watch, mommy!" Mommy, I'll miss you." He got into child watch and right away started crying. I told him, I know you'll miss me but I'll be back soon. He stopped crying pretty quickly and says, "I was crying." Like he was doing a little reflecting on his emotions.
One morning after daddy went to work, J said something about "his special friend". I asked him who his special friend was and he said, "My daddy. I miss my special friend. Where'd my daddy go?"
Thanks for stopping by!